Bought a new top on Saturday :D & in true little-kid style, I had to wear it asap. I'm attempting to mix more girly stuff into my wardrobe, though I hate anything too tight, trendy or with a super-low neckline, which is what (unfortunately) is worn by most girls I know.
I tackled a bag of leftover clothing from my latest wardrobe detox, now I have aching arms from trying SO many things on. D; only in my closet, I swear. I want to sell what either doesn't suit me or what I hardly ever wear so I have as much money as possible for my post-birthday New York trip. Such a great incentive!
Today's Outfit: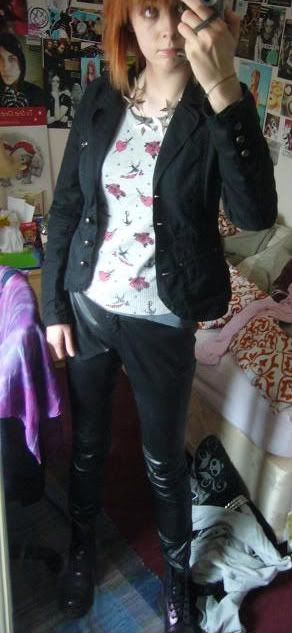 POF: Co-ordinating with new top & dressing for skoool.
Jacket: H&M
Top: H&M
Thermal: Primark (only £1.96: I love you, January sales)
Necklace: Topshop
Leather Pantz: Topshop. Attracted many "greased lightening" comments from little kids on my bus. what the fuck, seriously.
Boots: Doc Marten.