So I figured I should make a blog.
Blogs are awesome. Blogs let you nose into people's lives, stick your noses in their everyday business, they let you see what's goin' on in the world outside your bedroom and what's happening in people's heads. Conversely, blogs sometimes show only a certain side of people, just the desirable characteristics to form an online persona that may be completely different from who they are in real life. But I'm not making one of those kind of blogs, just one that showcases my ultimate interest. I have a mild fetish for fashion, to put it lightly.
Where I live, style isn't something that's regarded as particularly important, as the area is mostly populated by cattle and old men with scruffy beards and smelly coats. So I guess you could say it's challenging to be a stylish person where I live, though I've grown used to it in the last 16 years. Most of the time, the Internet, magazines and TV are my sole sources of style inspiration.
Here are some of my more well-known inspirations:
Audrey K.
Yeah, I kinda love her. She has amazing hair, an amazing figure & a super-cute style. I did a bunch of pieces of her for my Art GCSE (got a B :D). Sure, many of her photoshoots aren't that serious, but she's not supposed to be a serious model. She's done shoots for Hot Topic, Bleeding Star, Skelanimals & a bunch of other companies I can't recall. Plus, have you seen her wardrobe video on Buzznet? Makes me drool with envy. *__*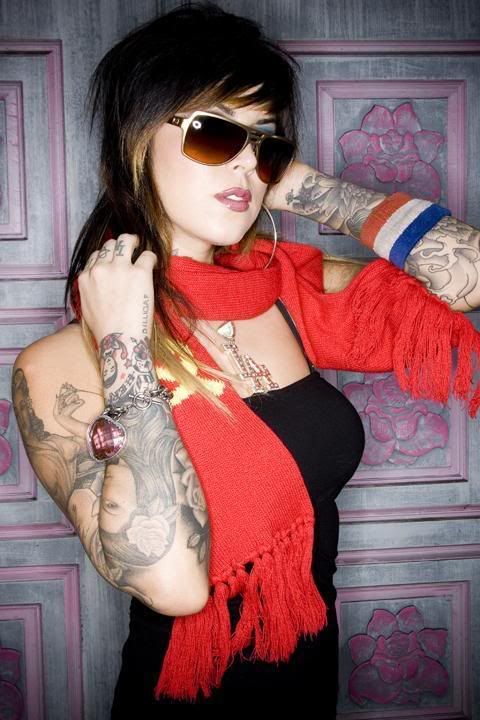 Kat Von D.
I love her more for her insane artistic talents than for her dress sense, though she does have a rather cool laid-back rock & roll kind of style. I seriously want to go to LA & get her to tattoo me when I'm old enough. Such a great incentive to start saving money.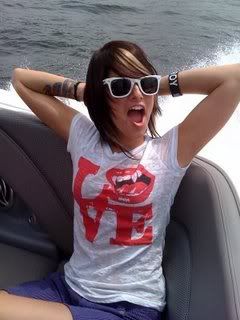 Cassadee P.
I'm kinda biased in the sense that I adore Hey Monday. Her style is quite girly & casual to go with her cute alternative look, being more practical for jumping around on stage rather than on the catwalk. Being fabulously skinny, she can get away with just about anything, & I've never seen her wear an ugly outfit yet.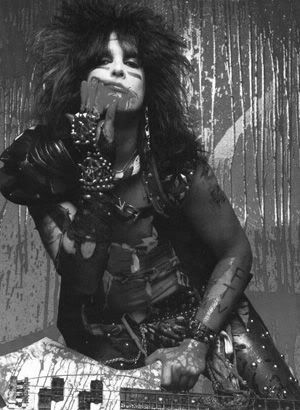 Nikki Sixx & Motley Crue.
Motley Crue is responsible for my leather fetish and adoration for over-the-top 80s style rock and roll clothing. Nikki's style back in the day was definitely crazy, outlandish and slightly scary, as well as his hair & makeup. I'm not gonna walk out of the house in one of their original stage outfits (including fishnet vests, spikes and PVC) but you've gotta admit their style is awesome stuff.
These are just the more famous people whose styles I crave - much of my inspiration is also from other bloggers & LJ enthusiasts who have a killer dress sense and envious style.
Just to kick this blog off, here's a couple of outfits I've worn lately with a quick rundown for your viewing pleasure: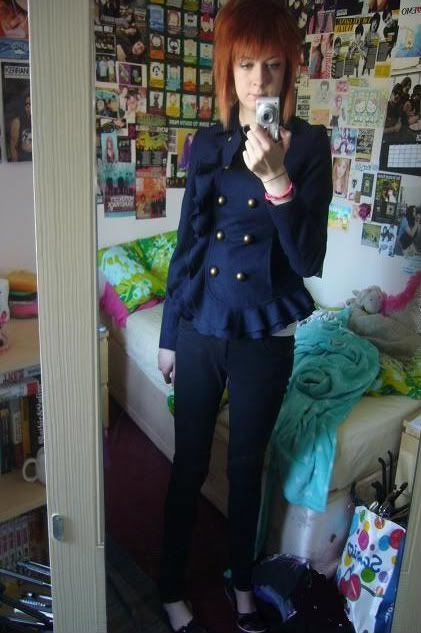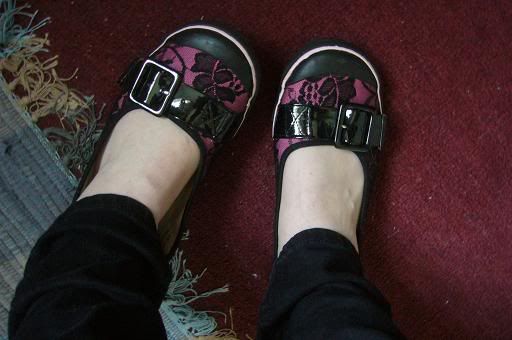 POF: Wore this a few weeks ago out to a family dinner..normally I don't like doing family stuff, but the food was actually rather good. & it's always a good excuse to wear something pretty.
Jacket - Kimchi & Blue. It's a bit tight, but I couldn't not get it. Urban Outfitters were sold out, & so I turned to Ebay and bought it for 3 times the sale price. Still worth it. (Y)
Jeans - Topshop. I enjoy jeans that fit properly. If anyone knows somewhere that sells good quality, cheap skinny jeans with 36-8" inseams, I'll love you forever.
Shoes - Sugar. Bought these for going on holiday 2 years ago & hadn't worn them previously. They're super-pretty, I'm gonna wear them more often.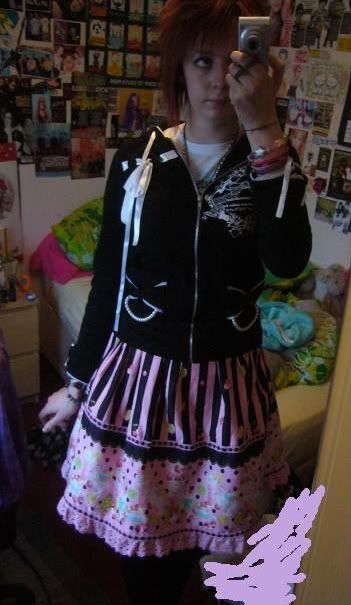 POF: Casual Lolita for skool-related exploits.
Got a lot of stupid, shitty comments from random kids, but my friend said the bunny ears on the hoodie were cool. Screw the shitty comments, as I'm in love with lolita style but don't have the body to wear a lot of the pieces.
Hoodie: K-Star @ Camden
Skirt: Bodyline. hello cheap pretty skirts with elasticated waistbands for us caucasian fatties.
Tights: H&M
Boots: RTBU. Not pictured, as I'm not allowed to wear shoes indoors. Rebel in the outfit pic before this one.
POF: Semi-emo for skool.
Jacket: H&M. Didn't wear it for 2 years previously, now I wear it all the time.
Thermal: American Apparel
T-shirt: H&M
Necklace: Topshop
Jeans: H&M
Belt: Lowlife
Boots: RTBU (not pictured)
So that was a quick overview of my style. I hope to post almost every day - I'll try to make it happen! I enjoy constructive crits, comments & answering questions.
Love, Lust & Pixie Dust,
Becky <3
xxxxxxxxxxxxxxx