Today I had an awful French exam and long walk, so I thought I might as well wear my new favourite skirt to boost the mood a little.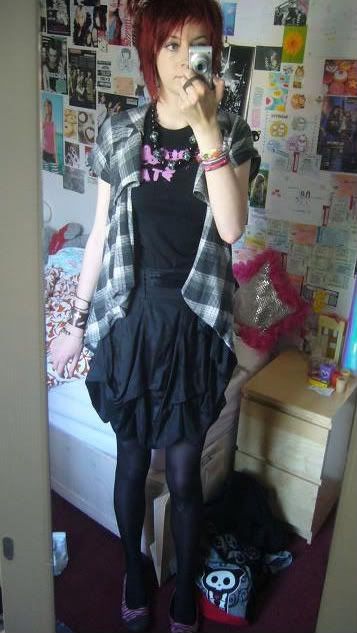 Hair: New! Currently looks like a greaseball as I'm trying to keep the colour in by not washing it for a couple days.
Top: Urban Outfitters
Tee: Bleeding Star
Skirt: Dorothy Perkins
Tights: No idea..rubbish ones with an odd mark on :D not the usual top-quality ones from H&M which I normally wear
Shoes: TUK (Hot Topic) - wanted to wear my new boots, shame about the long walk to school & major heel blister!
Exactly 2 weeks until the end of exams! Can hardly wait. I have LOTS of great article & writing ideas planned which I can only dream about until after the last exam is over. Until then my posts will most likely be pretty short, but sit tight & I should have some more in-depth topic-orientated posts up soon!