I cannot believe it's nearly Christmas again. Are you ready for it this year, or will you be rushing around madly the night before making gifts out of cereal boxes and parcel tape? Probably not the best idea.
One of the best things about Christmas is the increase in the number of gorgeous, cute gifts available online, therefore I have compiled a list of 10 super-fabulous gifts for anyone else who loves to give pretty things as much as I do.
1.
B 'Ding Dong!' Gift Set - £49.50
B products are some of the most sumptuously glittery, luxurious treats around, so why not treat someone who's been extra-nice to you this year? This is like a mini treasure trove for makeup lovers. In addition, they're closing down soon (sadness!) so stockpiling your favourite B products is a must before their gold sparkly doors are closed.
2.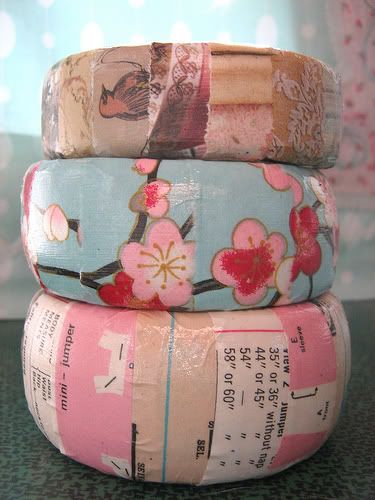 Decoupage Bangles - DIY them yourself!
A great way to create a more personal yet fun accessory. Decoupage a plain bangle with magazine cutouts, wrapping paper or even newspaper looks good - such a wonderfully versatile gift!
3.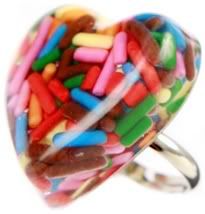 FredFlare Sprinkle Heart Ring - $11/~£7
Possibly the cutest, most mouth-watering ring in existence. Usually I try to avoid giving people jewellery as a gift as it's much more of a personal item, but this is much too cute for anyone to pass up.
4.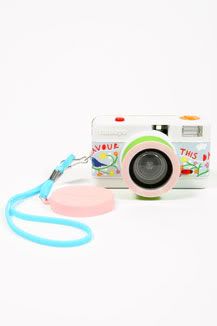 Lomography Fisheye Print Ryan Camera - £45
Being a photography student I get to spend hours playing around with interesting and fun lenses/cameras and the fisheye ones have got to be my favourite: everything looks cooler in fisheye form. A fabulous grown-up toy in pretty, limited edition casing.
5.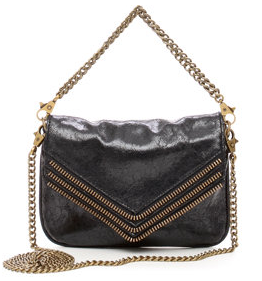 Matt & Nat Hendrix Vegan Handbag - £90
Shamelessly rock & roll, one of the vegan-loving Matt & Nat's newest handbags is a perfectly versatile accessory for both day and evening use. This particular bag is made from 4 recycled bottles - can you believe it? I can attest to their durability and general lusciousness as I own the extremely useful Camden bag in magenta. Did I mention it's also available in pink?
6.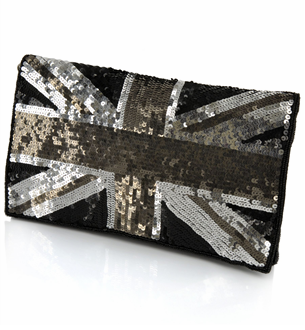 Next Union Jack Clutch Bag - £25
Next is a rather unexpected choice when it comes to pretty things, but I'm sure you'll agree with me on this one. A perfect evening clutch, covering two of the best trends in recent months - sequins and the Union Jack. Super-versatile as the greys mean it will go with just about anything.

7.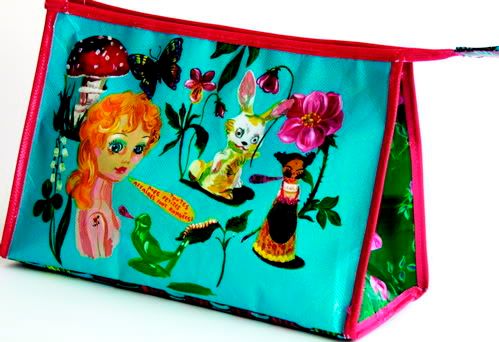 Parisian Toiletry Bag - £13.50
Probably the prettiest method of storing your makeup and beauty products that there is out there. Great for travelling as well as looking beautiful on your bathroom countertop, this beats toting your cosmetics around in freezer bags.
8.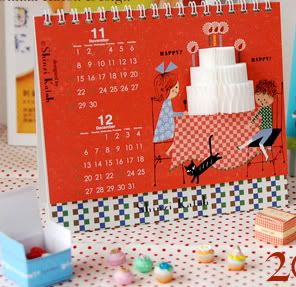 2010 Calendar - £12
From the same place as the above item, the irresistable Lapin and Me, this is one of the most adorable little desk calendars I've seen. Forget boring office-issued editions, this super-sweet 3D desk piece will be sure to brighten up your workspace all year round.
9.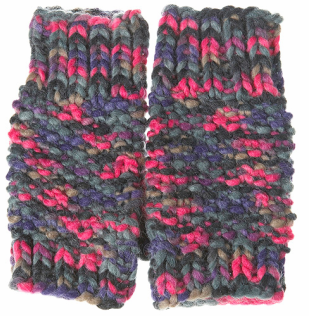 Topshop Multi Space Dye Palmwarmers - £8
These look absolutely PERFECT for cold times at the bus stop and walking/shivering around town. I'm in love with the bright colours and unusual shape next to the masses of gloves out there - these look like a must-have essential for anyone this winter.
10.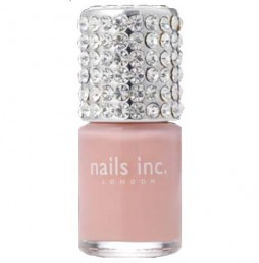 Warwick Avenue Crystal Nail Polish - £15
Anyone who tells you that things don't look 100x better covered in sparkly crystals is lying. A perfect way to add extra glamour to your makeup bag and look like a celebrity whilst painting your nails. Why isn't everything encrusted with sparkles?
What's your favourite item from this list? What are you asking for this year?