Lately I have been addicted to some of the rather fabulous Miss Selfridge pieces - their general appeal really has stepped up in the last couple of seasons thanks to some rather lovely irresistable pieces.
Yesterday I bought this: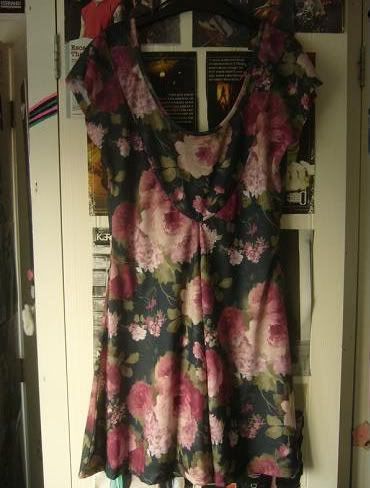 I managed to run into an old primary school friend of mine who was working in the fitting rooms due to getting a rather fun job; turns out we're both applying for the same uni courses! Scary but rad, no? Anyway, I spied this beauty and had to try it on despite having aversions to the following aspects: jersey bodycon-style fits (not great for jelly bellies in denial like me!), low neckline, very short hemline and low back.
Turns out it's not a bodycon fit at all despite its appearance on the rack: it has a kind of hidden pleat coming from the waist skimming over the stomach which nicely hides any excess chub and looks good with both darker tights and worn as a long top with shorts underneath. Great for school worn with tights and boots, as it's a dress (no shorts allowed!). The neckline doesn't come up quite so low when worn; however the back is lower..I can easily hide this with a blazer or jacket. Additionally, I got away with buying a size 12 to fit better to my waist rather than a 14..how's that for a self-esteem boost?!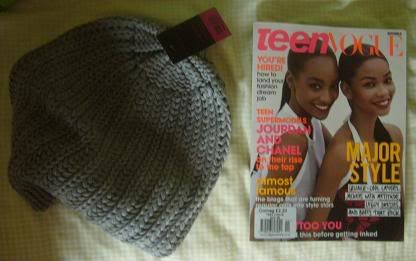 This week I got what I thought was a beret from the Miss Selfridge website using my free shipping code..how wrong I was! It's one of those long droopy hats that looks great on some people, but makes me look like an estranged member of the Seven Dwarfs..shame really, as the soft knit texture is wonderful. Needless to say, I'm returning it as it is absolutely huuge.
I also picked up a copy of Teen Vogue which I'd spotted in WHSmith, since it gave me an instant happy flashback to days of holidaying in the US with a copy of the magazine in my backpack. Good times indeed! Is 18 too old for teen magazines?
Since I hadn't bought anything for a while previously, I was delighted to finally be able to spend some of my long-saved cash on awesome stuff.