What are your favourite and least favourite trends of the last decade?
I found the slideshow
'The Short-Lived Trends of the Decade'
at
NYmag.com
via
Gala Darling's blog
- definitely worth a look for the pure nostalgia factor.
It made me consider all the weird, wonderful and completely questionable trends cropping up in the last decade. Will the 00s, or 'noughties' as this decade is becoming more commonly known, be iconic for fashion in years to come, or will we merely be regarded as 'the decade of crappy recycled trends'? Every decade in the 20th century has its own distinctive trends - what will ours be? Skinny jeans? Waist cinchers? Ugg boots? Or merely a demented mishmash of just about every ironic trend and pretty thing before us?
Here are my favourite from NY Magazine's great slideshow (all images from
here
) and ways on how these looks were/can be worn: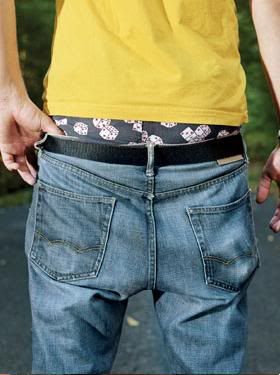 1. Saggy, Baggy Jeans: '01-'07
A relic of all our troubled childhoods in regard to style, hopefully the sinful saggies won't rear their ugly faces for a while yet to come.
Worn with:
Blink 182/Sum 41/New Found Glory t-shirt and/or an extremely loose hoodie, guys and girls alike. These could be paired with chokers, studded cuffs, skate shoes and greasy, unkempt hair. Oh early noughties, how we won't miss you.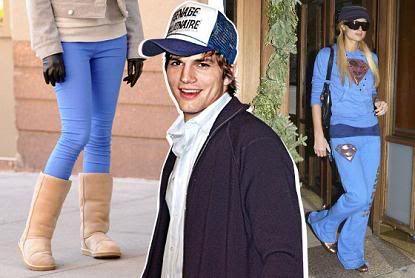 2. Uggs, Teen Truckers & Gymwear everywhere but the gym: '03-'06
The stranglehold that teen celebrities and MTV stars had over fashion in the early to mid-00s was really quite worrying. Can anything good, looks-wise, be said about
any
of these looks? Looking on the bright side, hopefully we won't see them again anytime soon.
Maybe it's just the troubled style situation in the depths of South-West England lately, but Uggs are still very much around every season, fake and genuine alike. Logically, shouldn't these have vanished by now? I've yet to see them being worn well.
Worn with:
Von Dutch vests, heavily logo'd apparel, badly bleached hair and a gym bag casually slung over the shoulder, even if you've never set foot in a gym in your life.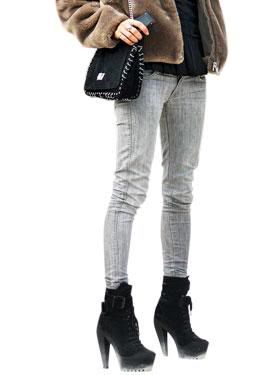 3. The Almighty Skinny-Fit Jean: '07-?
I don't see skinny jeans going down in the trend stakes anytime soon. Best flattering the taller and slim-legged, they're sure to be around for a while to come - I just don't see us readjusting to flares and saggies anytime soon! This classic style has been produced in many washes, shades and hues - what's your favourite pair?
Worn with:
Tees, minidresses, coats, jackets, boots, flats, rocker looks, girly looks..just about anything you can pull out of your wardrobe.
4. Neon Revival: '08-?
Neon just wasn't meant to be, in my opinion: it was too much, too soon. Neon was actually only cool for about a week or two, but places like Blue Banana are still selling entire outfits in eye-burning neons. These days I only see it worn by middle-school punks (yes, our school district enjoys americanising everything..we even have yellow buses!) and for ironic '80s parties.
Worn with:
Other shades of neon in highlighter yellow, pink, green and orange. Tutus, tees, tights and shoes must co-ordinate or else clashing may ensue. At least you won't get run over, right?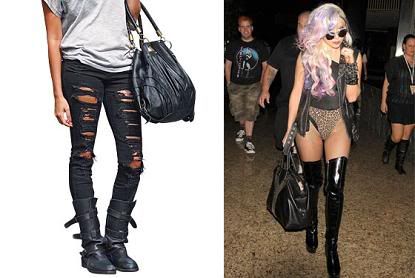 5. Ripped Skinnies & General Pantslessness: '09-?
Ripped skinnies, in my opinion, can look great when done right: cut horizontally with a sharp razor and worn with a more classier, grown-up ensemble rather than the aforementioned middle-school punk look.
Pantslessness, on the other hand, I have few words for. Just: don't. At least it gets us many laughs at the unfortunate
chocha-related mishaps
in Winona's hilarious blog.
Worn with:
Ripped skinny jeans: blazers, smart tops, studded heels and gunmetal-coloured items of beauty. Pantslessness: please don't try this at home, you have been warned.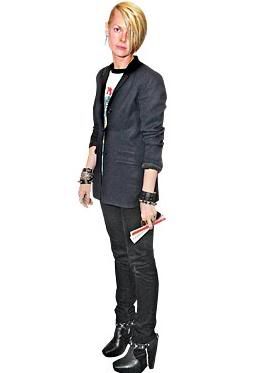 6. Tough-Girl Chic: '09-?
Still going strong, this super-shiny, smart yet sexy look is still prominent on the rails of the top trend-loving stores such as Topshop, River Island and Dorothy Perkins and looks set to continue its reign over fashion for a while yet. One of my definite favourites!
Worn with:
Girly pieces: playing with contrast between the two different looks is always fun.
There are so many more trends and disasters worthy of commentary - don't forget to let me know your favourites!
Dear Readers: Don't worry about lack of updates over the next couple of weeks - Christmas is sure to keep me busy! I'll be back blogging again in the New Year, but if you want to contact me or send me lovely messages I'll still be checking my email at racotterell@hotmail.com over the holidays. Have a delightful Christmas and New Year, beautiful people! ♥