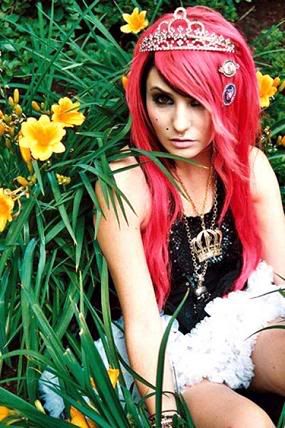 All images can be found both here and here.

I have wanted to do a 'My Style Icon' series for literally ages, chronicling the amazingly inspiring looks of some of the most lusciously lovely celebrities around. Singers, models, actresses, artists, you name it - there are people out there with some seriously killer style who constantly inspire us to try out some fabulously fashion-forward looks such as bedazzling our schoolbag, investing in a pair of PVC stripper boots or adorning our hair with feathers (what, you haven't done it too?!). This is unlikely to be a scheduled 'slot' in my blogging schedule, simply a post of eye candy and inspiration whenever the inspiration hits me. It's been great fun to plan, so I promise you there'll be more on the way soon!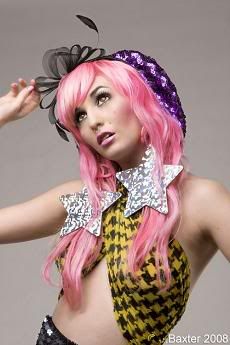 Audrey is one of my top personal style icons, as her style is a fantastic mish-mash of unashamedly in-your-face statement pieces mixed with a splash of hot pink and infused with raw Hollywood glamour and vintage rock&roll attitude straight from the 80s. She's a pretty controversial character too - if fellow bloggers and internet-creepers aren't putting her down for her split with Panic At The Disco band member Brendon Urie, her "trashy" former shoots (aptly named 'Trashylife') with modelling partner Zui Suicide or verbally attacking her influence on the 'scene' style in recent years, they're criticising her look, even though she has one of the most stunning, visually overwhelming styles I've seen out there.
Channelling Audrey's Look
Audrey Kitching Style
by
Superbeckyy
featuring
Carvela shoes
Converting my Polyvore addiction into something constructive, I created a mini Audrey collection inspired by her looks in the last few years along with some tips on interpreting a similar look yourself.
Key styles:
- Animal prints
: coloured or in natural tones. Audrey's been seen in shoes, scarves and other accessories covered in zebra, leopard and giraffe patterns. Tie a silk zebra patterned scarf around your head, or put a leopard print cardigan over your shoulders to add instant straight-out-of-the-safari chic to any plain outfit. However
real
animal furs are a definite no: animals belong hanging out in their natural homes, not in your wardrobe!
- Pink overload
: Along with her candy pink locks, Audrey's closet is literally dripping with accessories and garments in shades of princess pink. Bring out your hyper-girlie side with a pink wrist cuff or hair ribbon and if in doubt, add more.
- Layered necklaces
: A central trend in recent seasons, layer silver chains and pendants piled high to achieve glamourous yet casual rock&roll style.
- Leather
: Whether it be leather boots, leather hats or Gaga-esque motorcycle gloves, leather clothes and acccessories inject sexy 80s glamour into any look, casual and smart.
- Dark smoky eyes
: In or out of the studio, Audrey is rarely seen without lined lids and sexy, smoky lashes, relentlessly glamourous and over-the-top even for everyday styles. Be generous with volumising mascara and slick liquid liner for rock chic at any occasion.
- Romantic hearts, ruffles and feathers
: Contrasting with her more edgy, masculine pieces, Audrey pairs her leather, studs and band tees with luxurious feathers, lavish ruffles and an array of unusual heart-shaped pieces including glasses, clutches and brooches.
Where to shop:
- Vintage stores
: well-worn band tees, buttery soft leather jackets and authentic military pieces can frequently be found in your local vintage boutiques. Bring new life to previously-loved garments and invest in fabulously unique one-off pieces to show off with pride.
- Costume shops
: Go here for the unashamedly ostentacious pieces that are simply too exciting to be found in regular high street stores: these places are absolute eye-candy for any self-proclaimed fashionista. Metallic cowboy boots? Oversizes glasses? Furry hats? Incorporate these into your everyday looks for some serious stand-out-from-the-crowd style.
- Cheap high street chains
: I know I constantly protest about overspending at places such as Primark and New Look due to their below-average quality, if you're looking for trendy pieces that'll only be in style for a few weeks, or constructing a specialist party outfit you'll only wear once, get those pieces here. Remember to reuse the material or recycle the garments as soon as they start to fall apart.
Style Tips
Only eat pretty food.
Red velvet cake, lavender cupcakes, candyfloss and Smarties aren't only delicious, they make great accessories. Complement your style with a sweet treat to reflect your gorgeously sweet personality.
Dye your hair a sumptuous candy colour.
Or at least add some clip-in extensions in your favourite colours for a less permanent interpretation of the look. Audrey's hair is indeed her crowning glory, and yours should be too.
Experiment with outrageously-coloured makeup.
Forget boring neutrals: the bolder and brighter shades win every time. Check out
Limecrime
and
Urban Decay
for the most dangerously bright in alternative beauty.
Carry a bunny ear headband in your bag.
You never know when it'll come in useful.
When it comes to hair, bigger is better.
Bed Head blow dry lotion as well as natural extensions and short, choppy layers are fantastic ways to achieve big, beautiful hair even if you don't have much to work with. Fuller hair also flatters your facial features, especially if you are a fellow owner of a bumpy nose.
Embrace designer glamour.
McQueen, Chanel, Vivienne Westwood..they're all absolutely awe-inspiring beauties with breathtaking designs. Even if you can't afford original pieces, use inspiration from their collections to influence your own wardrobe.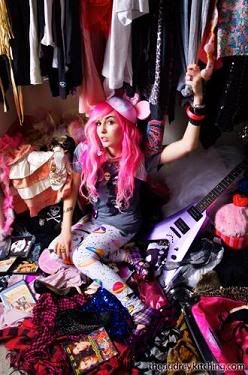 Watch out for more of my style icons coming this way soon! But first I'd like to know...
Who is YOUR style icon?