Everyone has that one brand of jewelry or accessories which they absolutely obsess over; the one designer who comes up with the most incredible eye candy season after season. For some it's Louis Vuitton handbags or Alexander McQueen scarves; for me it's Tarina Tarantino's jewellery. I remember staring at the sumptuously glistening Pink Head necklaces at the Sanrio store many years ago, a dazzling rainbow of candy colours locked away in a glass cabinet besides the cashier desk like how parents lock M&Ms and Skittles away from their hyperactive children. I'd be staring at them in the elaborate case and never wanting any other necklace more. They'd go with everything. I'd keep them forever. I wouldn't ever need another piece of jewellery. Eventually my auntie convinced me to go for it, to put down my last $200 dollars and just get the one necklace I wanted most. (Definitely a great philosophy if you adore something but have trouble parting with your money, as I haven't regretted it since.) It's my only piece of Tarina jewellery, but I still stare lustfully whenever a new collection appears, determined to get one or two things from them each time. This time around I'm sure to have much more trouble compromising between my bank balance and my lust for pretty things.
The My Pretty collection is typical of Tarina's usual style, incorporating glamourous vintage chic and a juicy, vibrant rainbow of colours and fairytale glamour whilst still appearing delightfully sparkly, grown-up and glamourous. Definitely to my taste then.
Here are some of my top favourite brand new pieces - how could one choose between them?: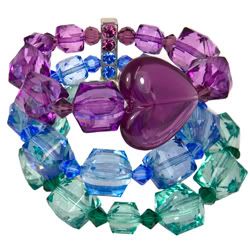 'Over The Rainbow' Triple Row Cuff Bracelet
What would a Tarina Tarantino collection be without her trademark chunky lucite beads? I adore the vibrant emerald, blue and purple hues together as well as the tiny sparkly crystals - just beautiful! If I had this, I don't think I'd want to take it off. True jewellery love. ♥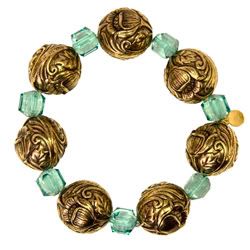 Emerald City Stretch Bracelet
The gold antique effect beads echo a time long lost, whilst the small emerald lucite cubes are deliciously modern. It overjoys me when I see modern and vintage-look beads creatively matched so seamlessly like those in this bracelet. Too lovely! The colours (gold and emerald) remind me of mermaids, which is never a bad thing.
Emerald City Crystal Heart Key Necklace
One of the central themes of this collection is the Wizard of Oz and the Emerald City. I can imagine this looking fairytale perfect with ruby red shoes and a plaid dress. I'm intrigued by key necklaces, especially ones with such details as these beautiful shimmery crystals.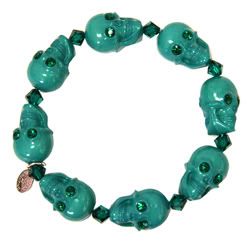 Lucite Skull Bead Bracelet
Skulls are traditionally characterised as morbid and have only become chic and more widely wearable in recent years. How much more fantastically stylish can skulls be than these with crystals for eyes and in an assortment of colours? I'm loving the emerald (pictured) and hot pink versions.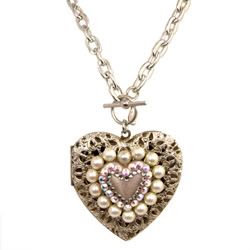 Filigree Heart Locket Necklace
I think a pattern is beginning to emerge - I'm mildly in love with big chunky hearts. From anyone else this necklace would look slightly over-the-top, but surprisingly faux pearls, crystals and antique effect filigree never looked so good together. This definitely has an anachronistic yet heavenly feel to it due to the comparitively toned-down shades and I know I'd have nothing to wear it with, but it's completely beautiful all the same.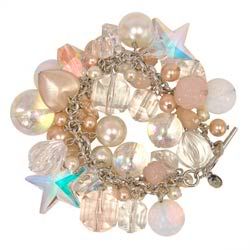 'Bubble Pop' Multibead Charm Bracelet
Normally I can't stand charm bracelets; they're usually cheaply-made, get caught on everything and become somehow stuck in my hair. This one, however, is a complete exception - it resembles the contents of a beautiful underwater treasure chest with Swarovski glass pearls, starfish charms and those unmistakeable lucite beads we keep seeing so much of. It doesn't look too cluttered as many of the charms are very similar and stick to a delectable yet simple colour palette. If I had this I'd probably spend more time staring at it than would be considered healthy.
Share your favourites!