[Requested by the infinitely lovely Charlie; if you'd like to request anything let me know!]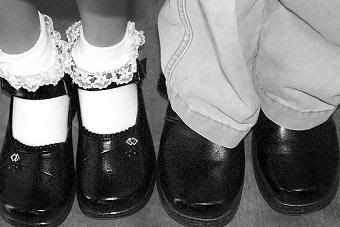 photo from here.
The first day of school has always been a complete shock to the system. You fall asleep, excited and jittery for the brand new and exciting day ahead; the next day you wake up bleary-eyed, nauseous and wracked with nerves. You reluctantly button up your brand new too-big regulation check dress and slip on your extra-soft new jumper which leaves a trail of blue felt over everything it touches; both still reek of the cellophane they came in. You slip your toes into dazzlingly white new frilled socks and slip on your new brown hard leather sandals before picking up your new expandable backpack filled with new clean pink stationary ready for another day of another year of school.
Of course, that's how it used to be. As with myself and many of my friends, it's likely that you're in college, 6th form or university and are now trusted with the previously forbidden task of dressing yourself. (And if you're not yet - don't worry about it; hang in there & you should be able to very soon!) Some people like myself love to dress up for the occasion in layered skirts, smart jackets and beautiful shoes, whilst others opt for comfort and simply wear their favourite hoodie and jeans. Neither is better than the other of course; it's just another part of who we are (like sometimes I feel like dressing up for school and other times I just don't).
It has come to my attention that there are a huge number of people starting uni this year and that means one thing - a great excuse to buy new clothes. No, I'm not just being my clothing-obsessed self: it's of utmost importance to have a wardrobe for school full of items that are
well-fitting, good value, versatile and that can be worn again and again
. The problem with universities and dorm rooms are that it's eather difficult to take lots of bulky items with you, as well as both the lack of space and lack of money coming in. This means you will have to shop smartly to create a completely personal compact wardrobe full of pieces which can be worn over and over for just about any occasion that throws itself at you.
So this is how it works: below are ten different sections, each representing a different type of must-have essential clothing for school. Your task is to pick at least one item from each section (depending on how much you can afford to store/take with you) and...ta-dah! - your new instant back-to-school wardrobe awaits! So let's kick it off...
1.
Section One:
Hoodies.
Wear this for:
Classes, keeping warm in a chilly home, throwing over a basic outfit to dash to the nearest convenience store. Buy one in your favourite colour, but keep it basic for versatility purposes.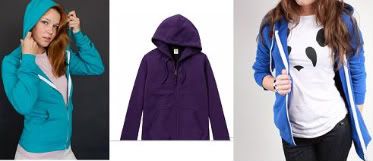 American Apparel Unisex Flex Fleece Zip Hoodie - £36
: The most expensive, but extremely comfortable and excellent quality with the distinctive white contrast zip. With 20 vibrant as well as neutral colours available, you're sure to fall in love with at least one.
Uniqlo Zip Hoodie - £14.99
: A thicker, heavier cotton hoodie but still in a more flattering ladies fit; choose from 10 colours. Great for impromptu strolls & bike rides in the freezing cold weather.
Criminal Damage Unisex Zip Hoodie - £24.99
: Similar material to the Uniqlo offering. If you're a fanatic of the white contrast zip and drawstrings, get a similar one here for just over £11 less.
2.
Section Two:
T-shirts.
Wear this for:
Anything. Basic t-shirts are classic, simple and great for layering. Make sure you have at least 7-10 in an assortment of shades, prints and necklines. Basic t-shirts are the ultimate essential, so here are three classic styles from AA, purveyor of super-soft, super-stretchy, quality tees. Don't scrimp on quality with these - make sure they don't bobble, fade or seam twist in the first few washes or you'll be out to buy more before you know it.

American Apparel Baby Rib Short Sleeve V-Neck - £10
American Apparel Baby Rib Basic Short Sleeve T - £10
Baby Rib 1/2 Sleeve U-Neck T - £12
3.
Section Three:
Casual Jackets.
Wear this for:
Parties, going out, classes, dinners - anywhere where you need to keep warm and casual yet still presentable. Make sure this is a fairly basic colour that can be mixed and matched with everything else. Interesting textures are a plus, eg. leather/PU, corduroy, tweed, etc. Make sure it fits well, flatters and can be done up comfortably - too-tight jackets make you look disproportionate as well as being very irritating.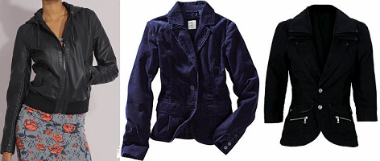 ASOS PU Hooded Jacket [Black] - £45
: Real leather is absolutely luscious to wear due to the divine texture, though this is the next best thing if you're either vegetarian or can't quite afford the real thing.
H&M Blazer - EU29.95
: Although not available in UK H&Ms just yet, it will more than likely turn up on our high street eventually. A beautiful deep indigo dual blazer/jacket piece which would perfectly accomodate our big cosy scarves in the winter weather.
Diesel Fitted Jacket - £80
: If you've got a slightly larger budget, Diesel delivers instant rock-chic cool with this classic fitted jacket.
4.
Section Four:
Blazers.
Wear this for:
Going out, parties, looking presentable and smart occasions you forgot about until the last minute.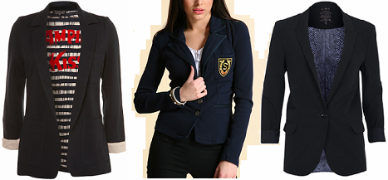 Topshop Vampire Print Jersey Blazer - £55
: Jersey blazers have had a sudden surge of popularity recently, most likely because they're very wearable, mostly washable and fairly smart-looking without feeling too dressed up. A perfect casual blazer for a smaller frame with extra awesome points for the inside lining print.
ASOS Varsity Sweat Blazer - £40
: You won't find a decent blazer for much cheaper than this. I am currently in love with preppy styles clashed with punk rock chic and am completely lusting after this particular blazer. Definitely cooler than the one you had to wear at school previously.
River Island Black 3/4 Sleeve Jacket - £49.99
: Smart fitted boyfriend blazer with the wonderfully trendy 3/4 length sleeves. A perfect basic blazer if you don't like them tight, especially for taller folk.
5.
Section Five:
Coats.
Wear this for:
Braving the impending below-zero winter weather, keeping wam & toasty in the coldest of classrooms, frosty mornings, tunnelling your way out of the place when you're snowed in. A fabulous coat is the one thing you must splurge on fantastically, otherwise you'll be kicking yourself come winter time.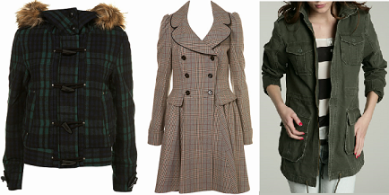 Topshop Wool Check Toggle Bomber - £65
: Very similar to those I fell in love with on the Delias website in previous years. The furry hood is the ultimate insurance against the cold weather; also you can't go wrong with a good plaid (I swear by it!)
Topshop Check Frock Coat - £95
: If your bank balance allows for it and you happen to have fallen head over heels for classic 30s/40s chic, this is the coat you'll be practically living in this winter. Extra-long to exclude pesky winter drafts with a flattering double breasted fastening and a vintage-inspired tailored fit.
BDG Army Fatigue Jacket - £65
: Military chic never fails to seduce me. If you're heading off to the hills of Edinburgh or Glamorgan this autumn (you brave thing!), chances are everyone else will be decked out in floor-length Puffas and camping gloves. This army-style coat will keep the frosty wind out whilst still looking completely on-trend as a casual jacket.
6.
Section Six:
Jeans
Wear this for:
Just about everything - keeping in mind that many schools have strict 'no shorts/skirts' rules, you'll be practically living in them. Topshop is my undisputed favourite for high-quality jeans in a plethora of sizes and washes, so pick several in your favourite cuts and colours and wear them day after day.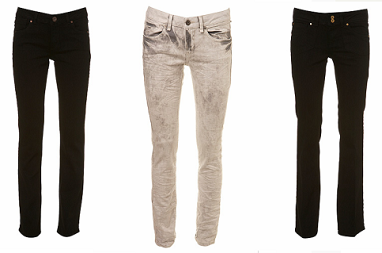 Topshop Black Straight Martha Jeans - £40
Topshop Crushed Skinny Baxter Jeans - £40
Topshop Black Ella Skinny Flare Jeans - £40
7.
Section Seven:
Loungewear.
Wear this for:
Studying at home, lazy days, sleeping. Do NOT! wear out to the shops or, god forbid, out to someone else's house - just because our favourite Hollywood celebrities do it doesn't mean we have to as well! Wear with a t-shirt and fluffy dressing gown for an extra-warm & super-cute outfit for lazing at home. Comfy PJ pants will be much more economical if you spend a little extra for decent quality, as cheap ones will only split and rapidly wear out.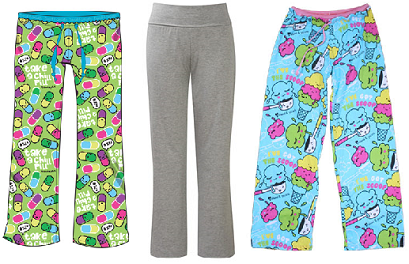 David and Goliath 'Take A Chill Pill' Lounge Pants - £20
La Senza Roll Over Top Pant Grey - £16
David and Goliath 'I've Got The Scoop' Lounge Pants - £20
8.
Section Eight:
Book Bags.
Wear this for:
Lugging around your weighty overpriced textbooks like a champion weightlifter on a mission. If you're going to be carrying around a big heavy bag for at least several hours a day, at least make sure you love it. Keep away from the plastic carrier bags and be eco-friendy with a delightfully cute tote or patterned backpack.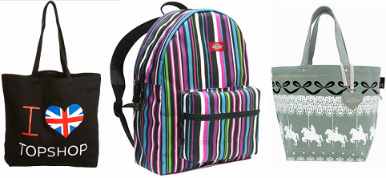 I Love Topshop Shopper Bag - £6
: Show your unfaltering adoration for the holy grail of high street stores with this patriotic printed shopper tote.
Dickies Vertical Stripe Backpack - £17.99
: The best choice for your back as the handy backpack distributes weight evenly between shoulders, saving money on costly chiropractic bills. Make sure you get one with an awesome print like this.
Rootote Carousel Tote Bag - £24.55
: How cute is this gorgeous loli-inspired tote by Rootote? Their bags are made of weighty, hard-wearing canvas material and with so many genuinely wonderful designs you'll be spoilt for choice.
9.
Section Nine:
Dresses.
Wear this for:
Parties, summer, dances, impromptu girly road trips and any days where dressing up is a must for your well-being.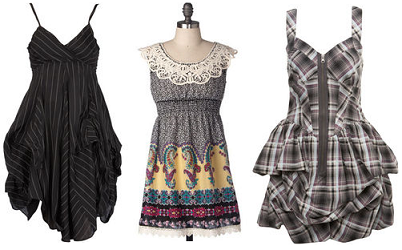 Saints Of Soul Navy Stripe Dress - £40
: Clearly I'm still obsessed with the hitch hems, but for good reasons. The perfect dress for the alternative girl who's sick of all the hot pink bodycon offerings and just wants something that'll gain a well-deserved 'wow' from her fellow moshers.
Modcloth Williamsburg Dress - ~£35
: Modcloth for me is like what a sweet shop is for a hyperactive toddler; I want everything, and I want it now. The entire site is full of beautiful American vintage-style pieces that make you wish you lived in New England instead of this regular old England.
Miss Selfridge Check Zip Hitch Dress - £38
: Yet again with the hitch hems and plaid - my two loves. Some solid neutral plaid with a fabulous zip-up front and some cross-shoulder strap action.
10.
Section Ten:
Shoes.
Wear this for:
Walking, strolling, skipping, jumping, dancing and ambling wherever the fancy takes you. All these can be styled up with just about anything, so make sure your footwear can too.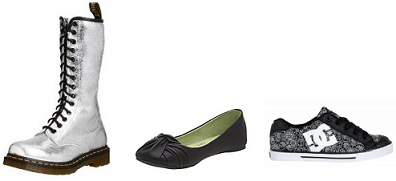 Dr Martens 14-Eye Boots - £64.79
: Everyone knows how much I love my darling purple DMs. They're pretty expensive at first & only appeal to a minority, but will last you for years and years making the investment well worth it. There are a ridiculous number of colours, designs and styles available so there's bound to be something you'll adore.
Blowfish Shock Knot Pump [Black] - £30
: A fair price for basic faux-leather flats from the adored brand Blowfish. Plain flats are an absolute wardrobe staple and can be a complete lifesaver when absolutely nothing else goes with what you're wearing.
DC Chelsea Ladies [White/Carbon] - £33.99
: Skate shoes aren't for everyone, but you'll be grateful for a pair when your feet ache from the night before, long pointless walks around the city or a late-night stroll to the only takeaway open at 2am. It happens. A great pair of skate shoes have always been a favourite of mine - I don't wear them in public that often, though they're perfect comfort shoes for the rest of the time.
Congratulations - you now have a brand new, completely versatile student wardrobe for a completely reasonable price! Adding up the cost of everything you purchase before school may seem daunting, but factor in the amount of use you'll get out of each piece and you'll see that you'd waste more money by NOT buying it! Money tends to be an issue for us student folk, though spend it wisely on quality key purchases and you'll be eternally thankful for it.
Some extra tips to bear in mind for the new term:
-
Work with what you have.
Maximise the wearability of your favourite outfit combinations by being creative with accessories. A dress can be worn as a skirt the one day and a top the next. Even the most basic of DIY skills will serve you well - spare material can be fashioned into anything from headbands to pillowcases.
-
Don't give in to the allure of cheap, disposable clothing.
Primark and Peacocks-brand garments may seem like a no-brainer when you're itching to spend money on new clothing, but in the long run you'll only be wasting your valuable cash. Many Primark items develop holes and split seams during the first few wears - ask yourself: is it really that much of a bargain?
-
Combine wardrobes with a friend for twice the fashion possibilities.
If you're sharing a room or dwelling with a like-minded style-savvy friend, why not borrow from each other for twice the choice? Only do this if you're sharing with someone you know and trust extremely well, as clothing often goes mysteriously 'missing' otherwise.
What are YOUR essential items in the wardrobe for the term ahead? Are you going for quality or quantity, trendy or classic? Are you completely transforming your style or sticking with what you know and love?
I want to know!