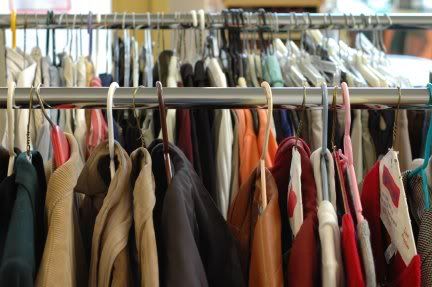 Traditionally, charity shops and thrift stores are known as the bane of the high street: full of the town's latest cast-offs, reeking of mothballs and filled to the brim with dry novels, polyester grandma blouses and last year's 'must have' toys. Due to their bad rep, it's no wonder many people would rather pick up the latest fashion pieces in a high-end store with tantalizing displays, glossy carrier bags and hand-wrapped goodies - who wants to spend their lunch break sifting through rack after rack of stained, outdated relics from the 1990s?
However due to the present 'credit crunch chic', many citizens are discarding their former fashion snobbery for fear of severely suffering at the hands of the latest economic crises. The rest of the world is beginning to take notice of this newfound approach to consumerism, leading to a completely different conception of fashion choices.
Gok Wan
is telling us to "Buy less, wear more" whilst stores such as Primark and H&M gain favour amongst even the most brand-conscious of the public. These stores are reporting record sales, loyal customers of stores such as Abercrombie and Jack Wills shunning the high-end labels in favour of more wallet-friendly goods. This newfound approach to shopping is promoting buyer creativity and 'smart' purchases, making bargain hunters realise the potential of what gems these second-hand stores can be.
I know that many people who read this blog already realise the fabulous treasure troves that charity shops, Ebay and vintage stores can be! They serve us well, providing us with unusual, exciting apparel options for halloween costumes, DIY projects and other people's weddings, to name a few, all whilst saving us literally hundreds in the long run.
The Second Hand Mini-Survey
- anyone can fill this in! Leave a comment, post on your own blog, etc.
1.
What kind of clothing would you consider buying/would never buy second hand?
I'm not terribly picky about quality, as you probably know! If I see an item I truly love, I don't mind whether it's been worn before, though I draw the line at anything that's heavily used, damaged or stained. Second hand stores are also great for buying anything that costs lots of money but that you know you'll hardly ever wear. I'm not going to my school's prom (sadface! it's ridiculously overpriced for some reason =[) but if I was, I'd probably buy a pretty prom dress second hand if I could. Much better value!
I'd feel strange about buying used underwear such as camis, tights and bras, though many people do.
2.
Favourite/least favourite aspect of buying pre-used?
The best aspects in my opinion are the cut prices, the variety and the element of surprise - you never know what you're going to find in there.
Least favourites are the occasionally nasty smells as well as the surprise holes/stains you don't notice until after you've already bought it. This is especially bad when buying used clothing online.
3.
Best finds from the charity shop / vintage store / Ebay?
My mum used to live in London and found some truly great items in charity shops, including a real Gucci scarf for £3 and some work jackets costing £6-8 each.
As for vintage, stores only seem to be prevalent in larger cities around here - such a shame! Buying vintage online is also irritating, as while there are some amazing wardrobe assets out there, the prices are often jacked up to extremes. Camden's Saturday Electric Ballroom market is always a joy to look around whenever I'm there - I managed to get a real leather trenchcoat in amazing condition for £30, complete with authentic goth/stoner smells.
Ebay can be a real mixed bag & it's always important to know exactly what you're buying - sounds obvious, but I can't tell you the number of situations where I've opened the packet and thought "oh, I didn't know it was like
that
!". I've found a couple of cute used Delias thermals from US sellers, as well as my brown/gold H&M plaid shirt and Topshop gold heart necklace that have become almost trademark items for me, both pre-owned.
4.
Do you ever give to charity shops? Would you ever donate anything valuable to them?
I'm totally for giving to charity shops! Although I sell a lot of clothing, anything I don't manage to sell first time that's in good, wearable condition is bagged up (clean of course!) and dropped off at either the Cancer Care or Barnados charity shops. Those are my two favourite charities and it's great knowing that they'll be able to make money for their cause.
I have donated some fairly valuable items in the past, but currently I sell most of it to get money to put into my savings. I've heard of certain people who skip the whole selling process and simply give away all their designer cast-offs to their local charities. So generous!
5.
Uses for clothes from the thrift stores & charity shops?
I admire some of the amazing works on Etsy that some people manage to conjure up from old, oversized t-shirts they picked up at a thrift store. Sometimes I see certain patterns or fabrics in the charity shops and think, "I wish I could cut that up and make it pretty!" Someday, when I learn to sew.
If I saw a really great item in a charity shop I wouldn't hesitate to wear it as it is (though that hasn't happened yet!).