Technically it would be 'what I wore yesterday', but yesterday was pure madness!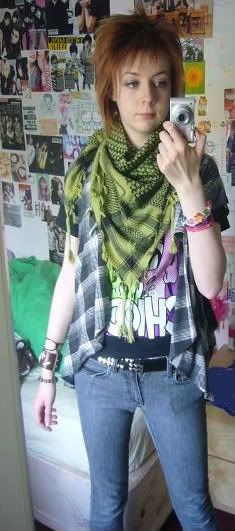 POF: Super-casual & chilled for a long, fun day
Jacket: Urban Outfitters (I still love the cut & feel of it. So worth the high price!)
T-shirt: GIAN '08 (my beloved Chiodos shirt! ♥)
Scarf: Camden
Belt: Some goth shop
Jeans: H&M
Visited my nan, went to town, said hi to some friends, bought a major haul at Boots, saw some of my family I rarely see & had some amazing authentic Italian food! Had a lush weekend, I'm very happy.
I bought:
- Got2B Freeze Spray - I've never seen this sold in stores before! The spiking glue is amazing, I have to try this too.
- VO5 Hot Oil treatments for hair, my hair is fried by Beyond The Zone's rubbish heat protection spray & needs some loving to restore its bouncy lusciousness.
- Boots Creme Bath
- New deoderant
- VO5 Miracle Mist, should've stuck to this all along!
- Mega 100-pack of Centrum multivitamins
- Chocolate buttons :D
All from Boots! They must love me by now, the amount of hair products & scented stuff I buy there.
On a slighty different subject, I'm on the hunt for gorgeous skirts! Though I have such a particular taste it's hard to find exactly the style I like. I adore casual lolita style skirts and aristocratic gothic ones, but without being too tacky, as well as skirts with lots of voluminous layers and interesting hemlines. They're such hard items to find!