I'm ridiculously thrilled about some of the new items in Dorothy Perkins' Autumn/Winter 09 collection. They seem have a terrible reputation around here (they've shut down their closest store now!), as previously they only had very plain, ill-fitting and generally hideous offerings. DP was referred to as 'the old lady shop' and I was genuinely stunned when my friend once unearthed some rather cute red skinny jeans from there in her size. Everything else was just, well, bland and ugly to put it lightly.
Now it seems that DP have finally got their act together with their website featuring some trendy yet rather lustworthy pieces, tempting me to spend even more of my ever-depleting bank balance, and I'd say it's definitely worth it! Here are some of my favourite new pieces: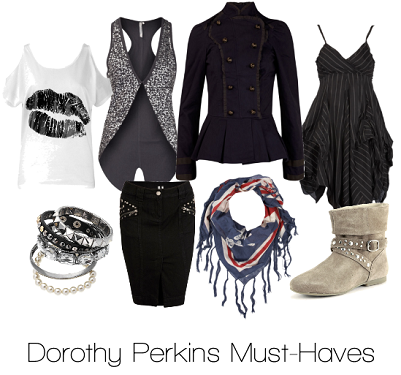 1. White Foil Lip Print T-Shirt - £15
- Many of the styles lately have been going unashamedly 90s at the moment; my best friend used to have a white tank top with a blue foil print just like this one. And how cool were cutout shoulders?! This particular top is reminiscent of our childhood era without going over-the-top and still works perfectly with our current 2009 wardrobes. Wear with a loose-cut blazer and skinny jeans for a 21st century edge on this deliciously retro piece.
2. Grey Sequin Waistcoat - £30
- I'm currently trying to find the perfect waistcoat; although this is a little sparkly & delicate-looking for everyday, it looks like one of those things you can't help stroking every time you go to the store until you eventually buy it. Irresistable, no?
3. Navy Military Jacket - £40
- As it's likely you'll have to wear a jacket every day this winter, why not buy a gorgeous one? And what better way to spend that £40 weighing down your wallet? I adore military-styled jackets like this and would buy it if I didn't already have a very similar one...
4. Saints Of Soul Navy Stripe Dress - £40
- Anyone will know how extremely passionate I am about All Saints inspired pieces like this gem. There's a skirt in a similar style to this on the site and even the name suggests they may be rather heavily influenced by All Saints. I'd wear this with a short jacket and my reliable Frye boots and would more than likely wear it everywhere too.
5. Biker Bangle Set - £15
- A delightfully stunning bracelet set! This particularly one looks a great combination of punk and girly style bangles as well as being wonderfully jingly - one-person percussion band, anyone? This set seems to feature 6 different bracelets which would be excellent for fiddling with when bored at school.
6. Black Stud Pencil Skirt - £35
- No one seems to be able to get enough of studs lately; what better way to celebrate your new addiction than with a basic black punkish skirt with a delightful assortment of studs on the pockets? Basic yet detailled without being excessive.
7. Red Abstract Union Jacket Scarf - £12
- Sure, the state of our country's going downhill fast, but how timelessly classic does our flag look? Especially with butterflies thrown into the mix. An improvement on River Island's version of the scarf without the strange tassles or pricier tag.
8. Stone Suede Stud Ankle Boots - £50
- Wonderfully Vince Noir-esque footwear for the impending cold weather. Wear with opaque tights and a skirt, or grey/black skinny jeans for an indie rock-inspired look. However I fear these are real suede, so it may not be wise to wear them in the unavoidable downpours this Autumn. Wear them around the house if you like.
If you've just, like me, fallen in love with any of the previous items, it's best to buy them
now
before they sell out! Avoid disappointment and snap them up while they're still around.