I had the pleasure of travelling to the charming city of Bristol yesterday and spent a good few hours enjoying the fantastic shops, delicious food and delightful townsfolk. Most of the shops there are some of the biggest high street stores (hello brand new 4-storey Primark!), as well as a few exciting boutiques and vintage shops scattered around the place, making it a wonderfully enchanting place to pass the time. I can easily spend an entire day there by myself without being bored.
I didn't spend a whole lot of money strangely enough, but here's what I bought:
1.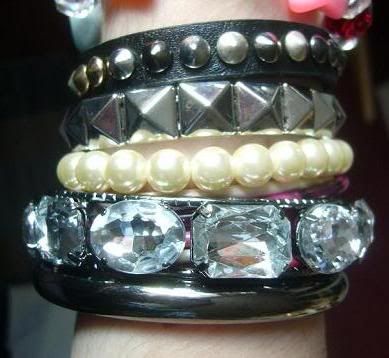 Dorothy Perkins biker bangles! I seldom buy bracelet sets, but since I included these beauties in my previous list of lustworthy items, I decided I had to have them. I couldn't exactly say no when I saw them in the store reduced to £7 either. They are actually five separate bracelets and do indeed make a fabulously jangly sound when I walk, especially when accompanied by my wings necklace.
2.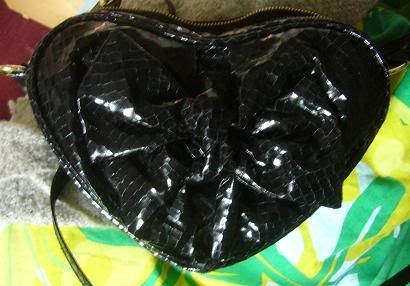 Urban Outfitters cross-body heart bag. Like most, I cannot resist a good bargain. Reduced from £28 to £9.99, I thought this was a rather excellent bargain. I plan to use it as my gig bag, as the previous bag broke when I was jumping/moshing/headbanging too hard. Ahem. It's similar to many versions currently at Topshop, except half the price.
I did happen to go past the Banksy exhibit a few times, though the line was unimaginably long so it would have been impossible to get in. I think it circled around the building several times before snaking between metal fences outside the entrance. Next time then?