As any girl over the 5'8 mark knows, being tall can be a dreadful nightmare when it comes to shopping for clothes; nothing seems to fit. How familiar do any of these quotes seem to you?
- "It's
much
too short..I don't want the whole world to see my stomach."
- "There's no way I'm wearing jeans with the crotch this low - I'm not a goddamn gangsta kid."
- "I refuse to buy my clothes from the plus size section."
- "How dare they call me 'abnormally-sized'!"
- "I think I'll buy a Mens Small, at least it covers my belly."
- "If I hear anyone recommend 'Long Tall Sally' to me one more time, I think I'm going to scream."
Despite what others may think, high street clothes (
especially
cheaper ones) are normally designed to fit petite people with small chests, short legs and larger rear ends, so it's no surprise that upon entering the dressing rooms we can become frustrated with the terribly generic fits of clothes from places such as Primark and Miss Selfridge which seem to be made with the shorter girl/woman in mind.
So what do we do about it? Although crop tops seem to be coming back into fashion, ankle-grazers aren't always going to be in the 'What's Hot' section of your favourite magazines. We don't need to source our entire wardrobes from patronisingly-titled plus size sections in certain stores and most importantly, being tall does certainly
not
mean we need to compromise our style! I am 5'11 myself, borderline 6', and I feel awful that some of my fellow tall friends think they are doomed to wear the most awfully drab pieces because their stomachs peep out of everything they try on.
As it is nearly time to start frantically stocking our wardrobes for back to school/college/AW09, here are 5 simple rules to adhere by when browsing the racks this coming season:
1. Stop buying your clothes from the mens & plus size sections!
Why? Because despite the fact that they're just the job to cover the lower half of your torso, they most likely fit you horribly everywhere else. I'm sure we all have mens t-shirts stashed away in our wardrobes for various reasons - gig souveniers/sleepwear/awesome designs - and even if they're bought in a size S or XS, they still squish your chest, drown your waistline and envelope your shoulders, arms and neckline. Plus-size clothes will most likely disguise everything (unless you're genuinely plus-sized) - how can we be sure there's a fabulous figure under there. In addition, both kinds of clothes will make your body look like a square, which is definitely not what you'd call a desirable look.
What do I do?
- We've all done it before - there's no reason to be ashamed. If you have larger things for sleepwear, make sure they are
just
for sleeping in. If you're good with a sewing machine, make a fabulous patchwork blanket or pillowcase out of the awesome designs and save the leftovers for DIY scrap projects or textile recycling.
2. Stock up on well-fitting basics.
If your basic pieces don't fit you properly, how is the rest of your outfit going to look? Plain tees, jeans, vests and leggings will look ten times better if they fit your shape, honestly. I had several pairs of H&M jeans on rotation and didn't realise how badly they fitted until I tried on a pair with an extra-long inseam from Topshop. T-shirts are much more comfortable and flattering when you can lift your arms in the air and they don't expose your stomach to the world.
Some must-have tall basics: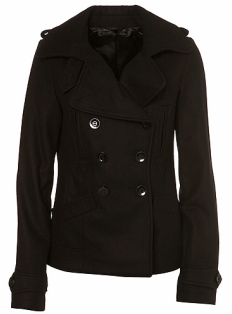 Topshop Tall Pocket Button Jacket - £60
Winter is quickly approaching and you don't want to be stuck with a last-minute cheap Primark coat that's clearly much too small for you. Even though it's not the most colourful style, this black coat can be worn with everything and you won't have a frosty breeze blowing around your middle as usual.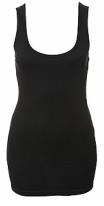 Tall Ribbed Scoop Neck Tank - £6/2 for £9
Layering tanks that fit you properly are an absolute essential and black and white are the most versatile colours. Wear them under tiny low-cut tops to turn them into casual wear, or wear them on their own or with a shirt over the top in the summer.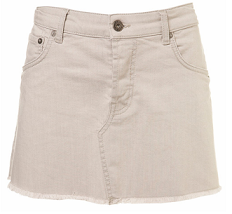 Topshop Tall Grey Denim Mini Skirt - £25 [£15 on sale]
The problem with wearing short skirts when you're tall is that they usually tend to look a little risque; they fit shorter on you than intended and as you probably have long fabulous legs it'll make the skirt look even shorter. I really want this skirt myself - shame they don't have my size in the sale. The grey will go with almost anything, it'll be a decent length when worn and would look great in all seasons.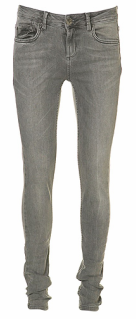 Topshop Tall Ultimate Skinny Jean - £40
I'm not sure how these skinnies qualify as 'ultimate', but they seem like the next best thing after the sadly discontinued Baxter cut (medium/low rise, long skinny leg). Wearing jeans in the correct leg length is so important that I can't stress it enough, especially if you have particularly long legs. Try on a standard pair from H&M or Primark and then try ones with a longer inseam - much more comfortable as well as being a lot more flattering. It's absolutely worth selling all your old pairs and buying jeans for your height - you won't regret it.
3. Don't feel that you have to buy all your clothes from the Tall collections.
Let's face it - although Topshop, Dorothy Perkins and New Look offer a small selection of extra-long Tall clothing, the vast majority of it tends to be annoyingly drab and, although great for basics, you definitely wouldn't want to have to buy all your clothes there. That would be a nightmare. Instead, try things on if possible - many t-shirts, skirts and tops should fit fine, just make sure by trying them on before buying. Make sure you know the length you need on a top or skirt before making a purchase online to avoid disappointment. You don't need to be exiled to the equivalent of the icy tundra in your favourite stores, just make sure that an item is going to look fabulous on you before deciding to get it.
4. You CAN wear whatever styles you want.
Magazines tell us that because we're a certain body shape, we're restricted to certain styles of clothing. They tell us ridiculous things such as tall girls should only wear high waisted jeans and never wear high heels, petite girls should wear fitted tunics and heeled boots, etc. Sure, it may look more flattering to some people, but some girls would rather die than never wear a pair of heels ever again. When you're tall, many different styles flatter you despite what the fashion columns say, so try on an assortment of different pieces and don't be afraid to wear what you truly love just because you heard it's 'wrong'.
5. Love your body!
Taller people are often the butt of many spiteful jokes; don't let them get to you.(how many times have I heard "how's the weather up there"?) People often make rude remarks and comments because they can't deal with their own feelings of inferiority. Never take things like that personally. You have an awesome body and dress yourself to celebrate that. There's no 'good' or 'bad' height to be. Walk confidently, smile, dress fabulously and you shall look amazing.
Link List
-
Topshop Tall
- best selection of stylish tall clothes I've found, as it features many of the odd Topshop-centred trends parallel to the main collections as well as the best jeans.
-
New Look Tall
- Only found out recently that New Look has a tall collection. Nothing terribly exciting but it's worth a look if you're interested. If you're going to a store, the tall stock tends to be all over the place and not in one particular spot.
-
Dorothy Perkins Tall
- I've seen a few skirts in the past here that I've liked. Nothing incredible but definitely worth a look. Good for basic items too.
-
Next Tall
- Convenient for smarter workwear, as well as for your especially tall mum or older sister.
-
This made me laugh.
-
UK Tall Shopping Directory.
For everything else.
Good luck with your shopping! ♥