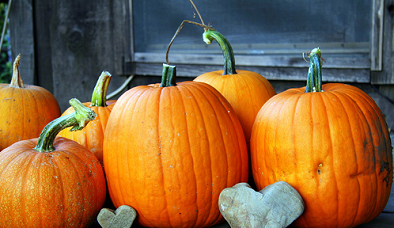 image from here.
Excuse my sudden absence from the internet - the last few days have called for impromptu celebration (passed my driving test!!) meaning I've had to go out to dinner, visit various people and see Flood Of Red - amazing band..go MySpace them! - as festivities to commemorate the occasion. TFT posts will resume next Thursday with an especially delicious new item for you to feast your eyes upon.
I wanted to introduce another new segment to my blog - welcome to the October edition of
Inspired
, featuring month-appropriate suggestions to stimulate your creative juices, pulverise boredom or blocks and invite some fresh insiration into your daily life. This blog will still be very much fashion-focused but with some scintillating new extra features by my very own self. Sounds good? Read on!
1.
Start planning your Halloween costume!
The 31st is soon approaching, which calls for some fabulously creative costumes for the event, whether you'll be trick-or-treating or partying. Check out
9 Awesome Last Minute Halloween Costumes You Can Make From Junk
for some cool ideas on making some speedy but effective new disguises. On the other hand, if Halloween celebrations are scarce in your area, get together with a friend and watch some of your most beloved horror movies along with a Pick&Mix bag of your favorite sweets.
2.
Try a new vegetable.
Along with the chillier weather comes the flu, colds and a whole menagerie of nasty germs. As you probably know, eating vegetables and fruit every day will not only make you feel great, they help to keep away all these scary illnesses that we inevitably pick up during the winter months. If you're normally vegetable-shy like me, try the surprisingly tasty
Innocent Veg Pots
(my favourite is the
Butternut Pearl Barley Risotto
). If you're a veteran when it comes to healthy eating, why not try some more unusual delicacies such as
salsify
or the funky-looking
romanesco
?
3.
Apply to university.
Deadlines are in January but now's the best time to start your application. A degree is more valuable now than ever in terms of the opportunity it gives you, and with subjects available from Oceanography to Fashion Studies to Computer Science, there's bound to be something that you're into. See
UCAS
for more info on applying - it brings such a huge life change, but almost always for the better.
4.
Invest in some extra-warm knitwear.
Chunky knit cardigans, beanies and mittens are essential items for a winter wardrobe - don't get caught out without them! Check out
Topshop's new Winter accessories
.
5.
Plan to have your Christmas in another country.
New York, Spain, Greece, Paris or London at Christmas time - undoubtedly one you'll remember if you choose to go away for the holidays. Spending Christmas at home is fun, but going somewhere new and exciting is a fantastic getaway adventure. Start planning now!
6.
Compile your own Spotify playlist.
Excellent for while you're working, surfing the internet or planning a beautiful outfit for the next day, online playlists can be obtained for free through
Spotify
. Mix up some electro-pop with a bit of metalcore and punk thrown in and you're good to go!
7.
Indulge your immature side and jump in a huge pile of leaves.
Possibly the best thing about autumnal weather, besides epic conker wars.
8.
Check out some of the gorgeous brand-new festive culinary goodies around.
Christmas biscuits, mince pies and stocking fillers already?! There are some fabulous festive goodies stacked on shelves across the globe over the next few months, so hunt around your nearest supermarket or department store for some of the most unique, hilarious or beautiful holiday memorabilia bits & pieces you can find.
This
is one of my favourite - cute, sweet-smelling
and
useful!
This edition is a bit short due to other projects I have going on at the moment, but I hope it inspires you to try something new! Plus I'd love to hear any feedback from readers, so drop a comment or message and I'll be sure to write back.