In times of desperation and economic crisis, money is all-important. Everyone worries about not having enough of it, some more than others, and it can buy us wonderful things like clothes, CDs and pretty jewellery. Saving money has become an extremely vital issue lately, and there's so many creative methods you can do to save a little extra yourself.
One HUGE way in which many people waste money is through buying stacks of makeup and cosmetics, much of which is unused. According to recent studies, the average woman spends over £750 on cosmetics every year - this includes hair products, makeup and body treatments. Sounds about right, hmm? Are you spending £20 on an item when you could have a similar (or even better) result for a fraction of the price? How many unopened or barely used bottles, tubs and pots of the stuff are filling up your drawers? Imagine how many pairs of shoes £750 could buy! (this always helps me to visualise large amounts of money!) Why do we purchase this unneccessary excess of sweet-scented, sticky, gooey goodness, and how does it end up there? We all do it, it happens. But do not feel guilty! I have compiled a list of hints, tips and my top favourite super-cheap and wonderful cosmetic items to help you lighten your makeup bag and not your wallet.
1.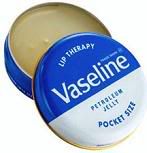 Name: The almighty Vaseline!
Why it rocks: Truly the item of a hundred and one uses. (Talking of which, have you read
this humorous review
yet?
Vaseline beats any moisturiser or lip balm. Rub it all over your lips before falling asleep and wake up the next morning to luscious softness. Sore nose? No problem! Same goes for your nostrils, especially useful during the season of colds and runny noses. I could go on forever, seriously.
Buy it here: Practically any drugstore or supermarket, almost anywhere in the world. So convenient!
Price: Usually between 90p-£1 for a small tin like the one pictured, depending on where you buy it from.
2.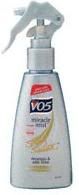 Name: VO5 Silky Smooth Miracle Mist
Why it rocks: Who else worships their hair straighteners but hates fried hair from the heat damage? Truthfully, the only way to 100% prevent fried ends is to boycott the heated appliances and give your poor hair a rest. However if you're a true devotee to the holy GHDs, you'll need a trusty heat defence spray that will loyally stick by your side and never let you down, no matter how hot things get. The Miracle Mist is a prime candidate for this - it is easy to manipulate, does what it promises and can be picked up at a bargain price. I have used many horrible products in the past that claim to defend the hair from heat, but ended up leaving me disappointed, my ends more fried than ever. However this spray will defend your poker straight locks like a valiant hero and keep them in beautiful condition. I use it every day and it hasn't let me down.
Buy it here: Larger Boots stores will stock it. Or buy online from
Chemist Direct
. Though there is slightly different packaging in different countries, so read the packaging to ensure you're buying the right product!
Price: £3.15 for a 150ml spritz bottle. Or save 6p and buy from the above link! Every little counts, right?
3.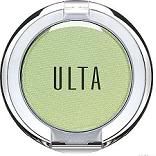 Name: Ulta Eye Shadow
Why it rocks: High quality, excellent choice (99 colours! Think of the possibilities!) and there is always a great offer on them, such as 3 for $10, or the current 2 for $7 (buy one get one free..I'm there!). This makes them ridiculously cheap, as well as being great additions to your eye shadow collection. I love experimenting with the more unusual shades and use them as much as my more expensive Urban Decay and MAC shadow. Currently I have around 6 colours, but will shortly return for more.
Buy it here: Shipping is only available to the US - American sweethearts buy it
here
from Ulta's online store. UK and worldwide darlings, make the Ulta store it a must visit on your next transatlantic shopping spree.
Price: Currently $7 each; however the latest discount lets you pick up 2 for this price! Hooray!
4.

Name: Superdrug Extra Gentle Apple De-Tangling Spray
Why it rocks: It makes coarse, tangled hair and knotted hair extensions a thing of the distant past. It doesn't matter that it's for kids, it works just as well on adults without spending ridiculous amounts of money on expensive conditioning sprays. A wonderful extra bonus: it will make your hair smell like deliciously juicy apples. I used to use it on my old hair extensions, as they tangled ridiculously easy. This stuff made them smell of fruity goodness as well as leaving them soft and smooth.
Buy it here: Superdrug. Unfortunately it's not online, hence the tiny picture (only one I could find!)
Price: 99p! Pay with £1 and throw the change into a wishing fountain for good luck.
5.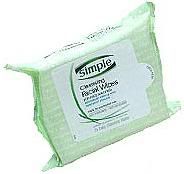 Name: Simple Cleansing Facial Wipes
Why it rocks: Stubborn eyeliner and mascara smudges will never stain your pillowcases again. One of the worst things about wearing makeup is having to take the whole lot off at the end of the day. Eye-burning mascara cleanser and skin-drying foundation remover are not the most pleasant thing to slather onto your delicate skin every night, so do your face a favour and use these super-gentle cleansing wipes instead. They are wonderful for eradicating even the most stubborn black eyeliner and waterproof mascara. I don't think I could live without them. There are several variations, including age-resisting and exfoliating, but personally I think the original ones are the best.
Buy it here: Most supermarkets and drugstores, including Tesco and Waitrose.
Though Boots seem to be rather cheap too.
Price: £2.93 from link above, anywhere around £3 from anywhere else. There are 25 wipes in a pack, so that's a mere 12p per day to remove every bit of makeup. Your skin will love you for it, I promise.
6.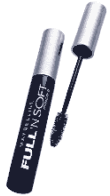 Name: Maybelline Full 'N' Soft Mascara
Why it rocks: Why throw away money on expensive mascara when you can have beautiful, full, clump-free lashes for a fraction of the price? I know I sound like a mascara advert, but it's true! Since discovering this several months ago, I swear I haven't used anything else. I'm often skeptical about cheap makeup but this is the real thing. It'll make your lashes look natural, full and soft (does exactly what the name implies) without spidery clumps or flakes. I don't think I'll be using anything else for a long time either.
Buy it here: For some reason I can't find it in the usual high street stores - maybe it's only available in the largest branches? If you can't find it, don't bother buying any other Maybelline mascara, as the rest just don't match up to this. Get it cheapest on
Yu Yu Beaute
. Or
Ebay
it! Always check feedback and buy from a trusted seller.
Price: £3.25 from the above link, possibly cheaper from Ebay retailers.
7.
Name: Body Shop Cocoa Butter Lip Care Stick
Why it rocks: It's my favourite flavoured lip balm ever. It'll make your lips pillowy soft and smelling of delicious creamy chocolate - is there any better flavour?! It's not foul and cheap-smelling like many other chocolatey lip balms, this is the closest you'll get to real chocolate cosmetics. And who wouldn't want to kiss a girl whose lips taste of cocoa butter?
Buy it here:
The Body Shop.
Price: £3.90. I know, not as cheap as many other lip balms, but definitely worth the price!
8.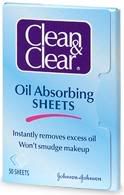 Name: Clean & Clear Oil Absorbing Sheets
Why it rocks: No more oily skin! The first time you try these, they are truly like pocket-sized miracles. I got hooked on these when the chinese students at my school let me borrow some they'd brought back from Hong Kong, and I simply had to get my own. You can see all the excess oil it removes on the wipe - very cool in an odd sort of way! Try them for yourself and take them everywhere, you'll adore them. I can't believe they don't sell them in the UK - I always knew English people were crazy.
Buy them here: A reputable seller on Ebay. Buying in bulk works out cheapest, though buy a single pack if you've never tried them.
Price: Ebay bulk buying works out at approximately £1.5o each.
9.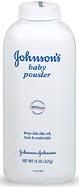 Name: Johnson's Baby Powder
Why it rocks: Babies smell awesome! It has that gorgeous fresh baby smell to it - light, fresh and heavenly. Just like Vaseline, baby powder is a product of many uses. It is the best dry shampoo I've used - sprinkle a few touches onto your hands, rub it vigourously through your hair and say goodbye for greasy roots for the day. Of course, you should wash your hair frequently as usual, but it's a lifesaver when your hair is unusually greasy one morning, or you've forgotten to wash it the night before. Also great for its intended use, as your skin will be sweet-smelling and silky soft.
Buy it here: Boots has great 100g mini containers of it - perfect for handbags and travelling. Just remember to twist the top closed before throwing it into your suitcase!
Price: 97p for the small 100g; £1.69 for the mighty 500g.
10.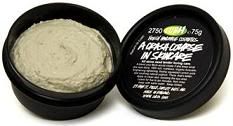 Name: A Crash Course In Skincare Fresh Face Mask
Why it rocks: Take advantage of Lush's most generous freebie offer and choose this delightfully fresh & natural mask as your reward for returning your black pots. I have tried several of their fresh face masks and this is my favourite by far. One pot gives you 6-8 masks of yummy avocado, lemon and yoghurt mixture to make your skin soft, glowing and touchable. It's perfect for sensitive skin, won't dry out your face or make a mess of the bathroom.
Buy it here:
Lush
Price: £6.31, or free upon the return of 5 clean black pots.
There is so much more I'd like to add to this list, though I think 10 is a good number for now! I may post a sequel to this if anyone finds it useful.
Some more helpful economising tips:
- Buy your favourite products in bulk lots & larger sizes! Is there a particular shampoo, vitamin or other cosmetic product you use frequently and would benefit from if you bought a larger size? You can save several pounds by buying hair products such as Catwalk conditioners (my favourite!) in duos or mega bottles. I always buy a larger salon size to save money and packaging. Keep a look out for similar deals at your local hair salon, or from a reputable Ebay retailer such as
Unwind Me
, who have amazing deals on salon brands when bought in bulk.
- Sign up for a store card from your favourite cosmetic stores. If you're a frequent shopper at Boots, signing up for a points card is free and can earn you tons of wonderful freebies. It's the most generous points card in the UK, letting you build up a personal store of points to spend on any products instore which your heart desires. This is an excellent way to save money on your everyday necessities, or spoil yourself with perfumes and extravagant body lotions. I have a similar card from Ulta which works similarly, just a shame that it's so far away. We all deserve it, don't we?
- Don't be afraid to ask for free samples. If you're pondering spending your hard-earned cash on an expensive body scrub, at least make sure you truly like it first! There's nothing worse than blowing money on a product, coming home and finding out you hate it. Stores such as Lush and The Body Shop have lovely employees who will gladly bestow an array of free samples and yummy smells upon you. Everything is labelled and given in generous portions, so you can experiment with it properly and find out whether it's worth your cash.
- Sell new and lightly used products on Ebay. There's nothing worse than receiving stinky perfume or soaps from a 'loving relative' every Christmas: the ones who forget your name and buy you something awful that you could truly do without. "No, Auntie Vera..I REALLY don't want another Barbie fragrance!". Instead of finding its home in the depths of your dresser, maybe it could be passed on to someone else who would enjoy it. If you're an Ebay addict, it's a great opportunity to gain back some money on your shopping mistakes and let others benefit from your beauty faux-pas. However when selling used cosmetics on Ebay, think to yourself, "Would I want to receive a similar product in this condition?" Always be completely honest about the item, its condition, why it's used and how it's been used (to avoid germs!). Being 100% honest about anything you sell is vital!
So after this mammoth entry, here are some questions:
How much do you reckon you spend on cosmetics each year?
Favourite thrifty beauty buys?
What are your favourite cosmetic stores for great value products? Lush is mine! I could literally live there - the factory is only 30 minutes away, so it's not exactly impossible...
Best money saving techniques when it comes to cosmetics?
What an entry! Probably the biggest I've done so far: I figure it's a result of procrastination from holiday homework. I'd love to hear comments, tips - any feedback would be wonderful.