A double post today, as my enthusiasm for wardrobe detox yesterday turned into an entire article! School has been very busy indeed, though tomorrow is my last day before Easter (yay!) with a college interview on Friday - exciting stuff!
Today!: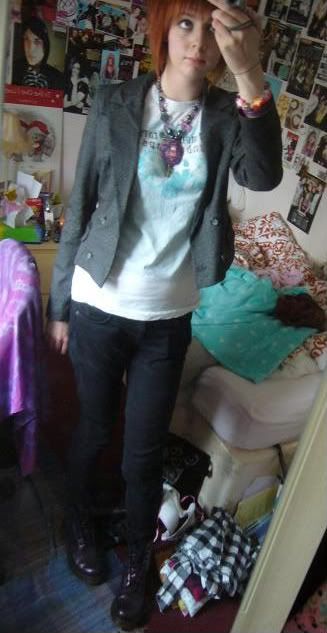 POF: Getting hair trimmed & hiking to skool for lessons.
Hair: My very fabulous hair stylist! I'm trying to grow it an extra 3-4", so the dead ends need trimming frequently.
Jacket: Kate Moss @ Topshop. £35 in the sale from £70+! It looks ugly on the hanger, but I adore wearing it, as it has a subtle leopard print all over & is cut differently from the other blazers I have.
T-shirt: Pac-Sun
Necklaces: Tarina Tarantino & Delias
Jeans: Topshop
Boots: Doc Marten (James & James). Though still painful after wearing them often for a month - anyone have any tips on breaking them in?
Yesterday: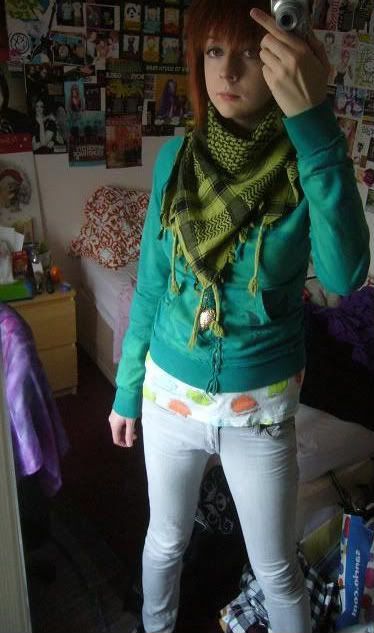 POF: Comfortable & bright for hardcore English Lit revision on a (mostly) free day at skl.
Scarf: Smelly scarf man stall at Camden
Hoodie: Urban Outfitters US several years ago
T-shirt: Delias
Jeans: H&M
Boots (not pictured): RTBU. I try not to wear them inside, as they're kinda dirty & falling apart! Yesterday (when I wore them), a metal bar fell out from between the sole and the upper part..no idea where that came from. So strange!
I would love to have a tripod and a remote for my camera, but not sure whether they come for my humble Panasonic Lumix. Maybe when I'm rich & have money for a sexy Nikon D90?