Did my driving theory test today..& I passed! Wore new top & scarf which I bought yesterday, both of which I'm super-happy with.
Had to lean back slightly as my boots are kinda big. (I'm not that chubby)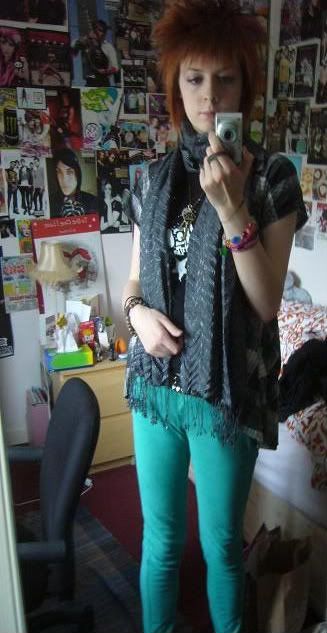 POF: Wearin' new stuff.
Top: Urban Outfitters..hardly ever buy anything full price from them since they're usually a bit of a rip off, but the cut of this top made me happy. It's super-long at the back and shorter at the front. It's hard to see how awesome it is from this photo, but I'll definitely wear it again soon & take a better picture.
T-shirt: Pac Sun
Scarf: A|Wear - £3 in the sale :D
Necklace: Delias
Belt: Some hippy store
Jeans: Primark
Boots: Demonia. Made it kind of hard to leave the test center "quietly", as the buckles jingle like Santa's sleigh.
I'm ridiculously happy at passing my theory test - only the hard part left to finish!