Yay, it's FINALLY here! After such a long wait, I was relieved and delighted to finally receive it.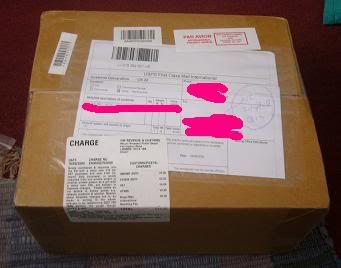 My mum picked it up from the Post Office today because there was a customs charge. Such a huge box for what I ordered!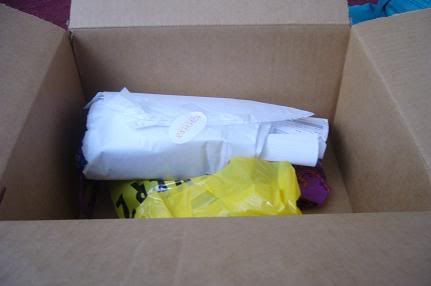 Ta-daah!
I'm wearing my purchases tomorrow so I'll be sure to take photos & give my verdict on the lot!
The only thing that irritated me was the cumulative cost of the whole order - it was ridiculously expensive for what I received.
Cost of merch: $43.40 / £29.78
Cost of shipping: $39.95 / £27.41
Customs charge: $18.44 / £12.65
Total cost of order: $101.79 / £69.84
Wow! I don't think I'll be purchasing anything from their site again; my current account balance has gone right down after this. Maybe I'll ask for something from there as a birthday present instead? I'm a little annoyed that even though the package was very light, the shipping cost almost $40 - a package of that weight shouldn't even cost $10 to send! The package must have been stamped by their own franking machine - very sneaky indeed - as the actual cost isn't shown on the box. I think they'd get many more UK and international customers if their shipping prices were honest and reasonable.
I better get my wear out of my purchases. At least they're cute, so I should wear them lots!
This is what I wore today: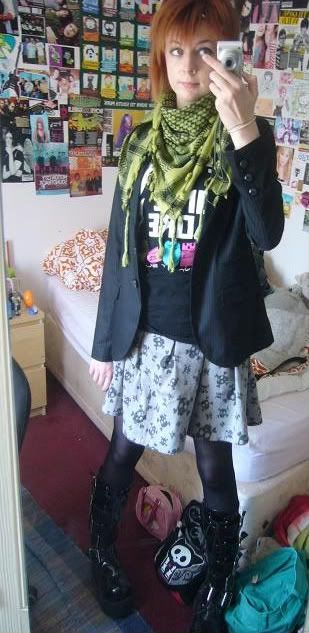 POF: Wearin' my skully skirt for the first time in forever.
Anyone got any great ideas on how to wear it?
Blazer: Urban Outfitters
Scarf: Camden
Tee: The Rocket Summer gig
Necklaces (hidden) Delias / Formulaexo.com
Skirt: H&M
Tights: I used to wear these to school when we had uniforms..so I forget where they're from.
Boots: Demonia.
I was also wearing a cute skull cameo brooch from the wonderful
Kitschtique
at Etsy.com. She makes delightfully cute things, so go check out her shop!
Unfortunately the temperature here has suddenly rocketed, so I doubt I'll get to wear tights and jackets for a while because they're super-warm. I'll miss you, black clothes! I'll definitely wear something thinner tomorrow.
Question: How has the sudden (but welcomed) hot weather affected the way you dress?