Yesterday I found myself in town alone due to people cancelling plans, etc - a perfect opportunity for an all-day shopping trip! Shopping in the early morning is absolutely wonderful - less crowds, a cooler temperature (any other UK people melting in this heatwave?!) and the sales staff are much more attentive a half hour after opening than in the early afternoon. Truly wonderful!
This gave me a great opportunity to have a quick dash around the shops that I never usually go into. I'd heard wonderful things about River Island from friends in London but have never been able to find anything in their local stores but, well, tacky trash to put it nicely. Neon vests and sequinned hot pants, for example - how foul! I had a great chance to look at some of their newer things yesterday and they truly do have some pretty items! I
almost
bought more, but £51 in one go is enough for one day, don't you think?
Though one of the department stores in town have
just
opened a new All Saints section, and they
are
having a sale...why do they tempt me?!
On to the photos!: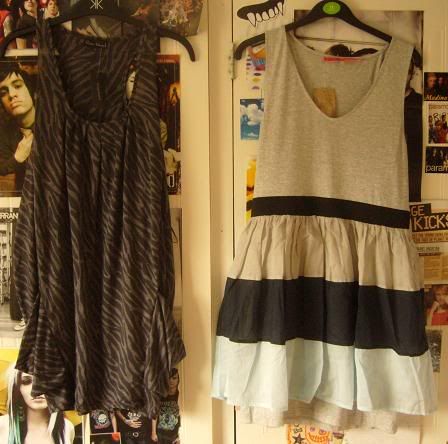 Purchase #1: Grey Animal Print Top
: Adore this! Loved the cut, tried it on on a whim and it looks excellent for wearing to gigs in the summer with dark tailored shorts. The heat has been so intense here in the South for the last few weeks that I really needed some pretty yet practical summer clothes other than t-shirts.
Purchase #2: Grey & Blue Striped Jersey Dress
: Is it ridiculous how I own literally no dresses? Now I have one which I love - I saw a similar one on Modcloth, shame it sold out! I wore this today and it's wonderful. I like how it subtly accentuates the waistline without drawing too much attention to the hips and stomach.
Lesson for today -
always
try things on! I think when the stores are quieter you feel much more prepared for trying things on than when it's hot and crowded. I'm delighted with my new finds. :)