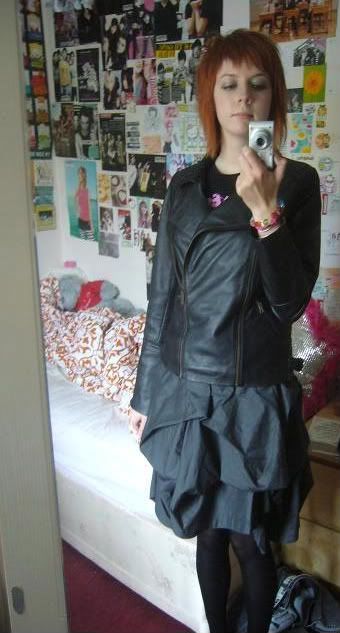 POF: Getting hair cut on a cold & windy day.
Jacket: Kookai
Tee: Bleeding Star
Skirt: All Saints
Tights: olddd
Boots [not pictured]: Fryes
My hair always feels alien for the first few days after it's cut. I decided long fringes are too difficult - even though they look rather beautiful - so I had mine short again while I grow the rest of my hair out. Anyone else agree that long fringes are hell to manage?
Today was actually very amusing even though I have my hair cut in the same small town where I go to school - I met a very cute person in Somerfield whilst shopping for Oreos (joy!) and my mum's lovely friend said I looked "very black today", haha.
I've been thinking about purchasing some more pairs of shoes to add variety to my ensembles - lately all I've been wearing are my Fryes and, divine as they are, I need some more super-versatile shoes that blend in seamlessly with my normal style. I have 30+ pairs of shoes, but alas they are mostly Converse, Vans and cheapie canvas shoes which I used to wear constantly but rarely do nowadays. Shoe shopping is always a pain for me, as I am somewhere between a UK 8-9, luckily just squeezing into the biggest size of most styles. However I feel it's urgent and shall seek out some beautiful brand new footwear to sit proudly alongside my darling Fryes and DMs.