Traditionally, us Brits aren't built for the summer. We sulk under our rainy skies all year wrapped up in our fabulously well-cut jeans, pretty scarves and beautiful jackets. Yet when the sun decides to take pity on us by offering a couple weeks of humid heat and a few rays of sunshine as compensation for the dour and depressing winter months, some mechanism in 98% of British brains causes all sense of style to be thrown out the window. We are not used to this sudden heat, hurriedly throwing on whatever we find in the depths of our drawers. Our mum's old Race For Life t-shirt? Why not! The oh-so-practical socks with sandals? Go for it! Why is it that even the slightest hint of warm weather over the summer months causes people to suffer fashion crises of the most dire proportions, kicking off some of the most hideous trends our side of the earth has ever glimpsed?
One of the most bafflingly odd yet intriguingly adorable trends this summer has got to be the almighty Playsuit. But wait, doesn't the name sound like something your mother made you wear in your toddler years? Visions of flannel button-up onesies come to mind - "is this what
really
accounts for fashion these days?!" you ask yourself. I agree - the name itself brings up the most horrible of images and completely puts you off even investigating these awful-sounding new garments. But it couldn't hurt to have a look, right?
Topshop has been selling these aforementioned playsuits for at least a couple of months now, as well as other high street retailers following suit by displaying similar styles.
Top playsuits currently being sold in stores and online: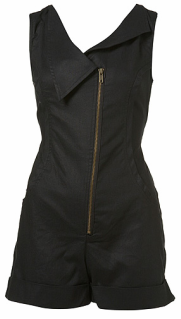 1. 'RARE' Black Asymmetric Playsuit @ Topshop.com - £45 (£25 on sale)
My #1 favourite. Wonderfully simple with a gorgeous asymmetric cut, as well as looking easy to undo - did you know you have to take the
entire
garment off to use the bathroom? These are currently out of stock online, but are most likely still being sold in stores. If I had to get any playsuit, I'd go straight for this.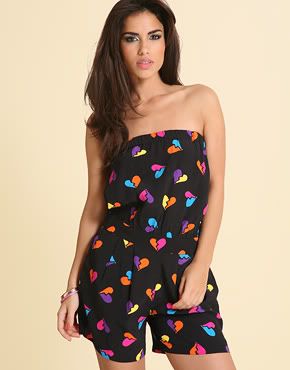 2. ASOS Broken Heart Playsuit - £35
On second thoughts, I adore this one too. Satisfies your inner emo kid whilst still being cute enough to get away with wearing without being called 'goth bitch' by the local chavs.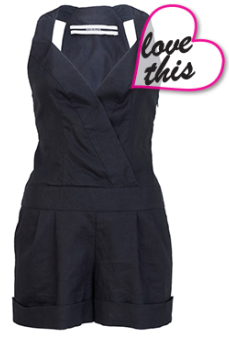 3. River Island Cross Over Playsuit - £44.99
Will go with just about anything in your wardrobe. A little more expensive than the offerings from Topshop and ASOS, though the 'Little Black Playsuit' looks to be this summer's new 'Little Black Dress'.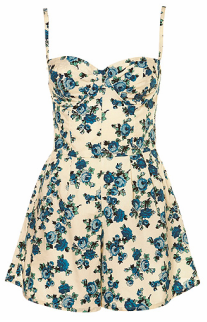 4. Topshop Fluoro Rose Playsuit - £40
Pretty, classic and summery - if black is a little too dark for you, this cute blue and white floral number could be the answer to your playsuit conundrum. H&M are currently selling a skirt in a very similar material, showing that blue and white florals aren't just for your grandmother's tea set anymore.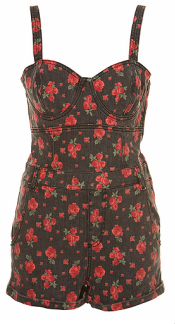 5. Topshop Red Rose Playsuit - £45
On the other hand, if you're more into the alternative side of fashion, black and red is the way to go. Accentuating the waist and chest, this is probably one of the more sexier choices if a simple lighter floral design just isn't your thing.
What do you think of these hand-picked pieces? Would you wear one yourself?